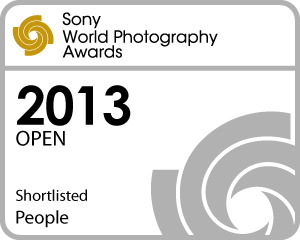 I received an unexpected e-mail:
"Dear Paolo Mezzera,

I am delighted to announce that your image has been shortlisted in the top 10 images in the People Category in the Open Competition of the 2013 Sony World Photography Awards.

Your work has been selected from 54,851 images entered from 170 countries. This is an incredible achievement.

Your name will be announced to press and on our website, on 5th February but before then it is absolutely critical that you keep this information confidential. The winners of each category will be announced on 19th March."
The selected image is this portrait (click the link to see it on flickr), taken in April 2012.
I could not believe.
Now we have to wait March 19 to know the winners… but I'm already happy and amazed to be among the first ten!
And I found my name and my photo on many websites around the world.
I have to thank my beautiful model, Elisabetta. She is always nice. The shot below is an unpublished portrait of her. Just to say thank you.
Canon Eos 3 – 24mm f/1.4 – Fuji 400H