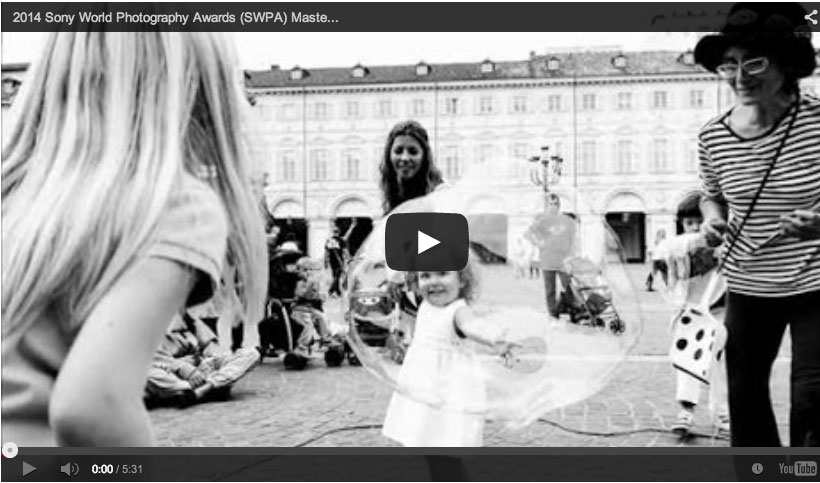 I feel honored to collaborate with Sony Europe and World Photography Organisation.
I recently recorded my masterclass about street photography, using the new QX10 and QX100. Then I released an interview about my photography, and now I am the judge for this month's competition (which is about Street Photography).
And I am very pleased about that, these are nice rewards!
I want to share here some Q&A from my interview:
You only bought your first camera in 2009. What drew you to photography and why did you choose to specialise in portraiture?
I have always been attracted to cinema, especially to its photography. Some directors fascinated me, for their ability to communicate through images. To name a few, Wim Wenders, Joel & Ethan Coen, Stanley Kubrick, Martin Scorsese, Wes Anderson. I've always watched many films, paying attention to how the camera moves, which choices for every scene have been made, whether the depth of field is large or small, etc. As a photographer, what I am interested in describing, narrating and celebrating is people. The person is, for me, the centre, and what I usually do is to put the person in the middle of the photograph.
Why is photography important to you?
It is the way I prefer to communicate, the way I like to tell how I see the world. People read less and less, but no one can ignore an image: a photo has much more power than many words. The same is for me: I struggle to write essays, writing is not my way. Conversely I need to observe and evaluate each image. Photography is a key element for me, as a user, as a citizen, as a person. And I think it is necessary. We need documents, memories, descriptions of our world. To remember the beauty and the drama of our life.
You shoot both on film and digitally. Which method do you prefer and when do you use each?
Sincerely I am not very interested in technology debates, if not to know the limits that every instrument imposes on me. Each tool has its own strengths and weaknesses. With regard to my photography I prefer to use fixed lenses, and manual settings. Film is inconvenient and slow. But I really love the imperfections of film: grain, colours, and especially the fact that every single shot has a cost. This requires a careful balancing of the composition of the photo. The digital instead is faster and more reliable, because you can make immediately aware of mistakes. For me it is more comfortable and most of the time I prefer it.
How do you find your subjects for your photographs?
I observe people. In the street, at the supermarket, on the train, everywhere. Whenever I have the time, I go and look for characters. It's a bit like going hunting. And it is one of the most enjoyable parts of the job.
There appears to be a strong narrative behind each of your images. Is this intentional and how do you ensure a story is told in your images?
Yes, it is. Every new portrait is a new story. Taking pictures is, for me, like writing a book. Though it isn't a novel, it's a collection of short stories.
Your images are often shot with a wide angle lens. Why do you use this approach?
I started to photograph people using long lenses so shooting from a distance. Long lenses usually make everything nicer, because there is no distortion. But then I slowly shortened the focal lenses, and now I mostly work with wide angle lenses. This allows me to be close to the subject, I could whisper something to them, touch them, move them. Wide angle lenses are the opposite of long lenses: every single feature gets emphasized by distortions. I call "feature" what people usually call "flaw". I think the most interesting people to portray are the ones that have something that distinguish them. And most of the times it isn't beauty. It could be a crooked nose, or white hair, or pockmarked skin. Sometimes it's the eyes, if they're able to make an interesting look. Well, I prefer wide angle lenses because I want to emphasize them and I like to stay close to the subject.